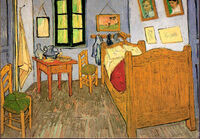 Bedroom in Arles is one of Vincent Van Gogh's major works. It is an impressionist take on Vincent Van Gogh's bedroom in Arles, France, a year before his death.  There are three copies of this work, one in the Van Gogh Museum, Amsterdam, the second in the Art Institute of Chicago, and the third in Musee d'Orsay, Paris.
Ad blocker interference detected!
Wikia is a free-to-use site that makes money from advertising. We have a modified experience for viewers using ad blockers

Wikia is not accessible if you've made further modifications. Remove the custom ad blocker rule(s) and the page will load as expected.