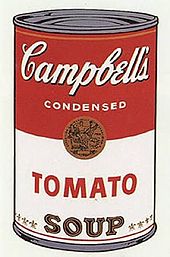 Campbell's Soup I is a pop art piece by Andy Warhol in 1968. It depicts a simple Cambell's tomato soup can from the 60's. This work is a good example of the early pop art movement. The print is one of a series of prints named Cambell's Soup Cans, each one depicting a variety of soup at the time of the work. They currently reside at the MoMA.
He made this art because he was sick when he was a child. His mother gave him Campbell's tomato soup for his meals.
Ad blocker interference detected!
Wikia is a free-to-use site that makes money from advertising. We have a modified experience for viewers using ad blockers

Wikia is not accessible if you've made further modifications. Remove the custom ad blocker rule(s) and the page will load as expected.