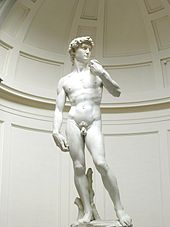 David

Name

David

Where it lies

Galleria dell'Accademia, Florence
David is a famous sculpture by Michelangelo, created in 1504. It is a 5.17 metre high representation of the biblical hero David, depicted as a male nude. Made of marble, it is one of the most famous pieces of sculpture of all time. It lies in the Galleria dell'Accademia, Florence.
Ad blocker interference detected!
Wikia is a free-to-use site that makes money from advertising. We have a modified experience for viewers using ad blockers

Wikia is not accessible if you've made further modifications. Remove the custom ad blocker rule(s) and the page will load as expected.