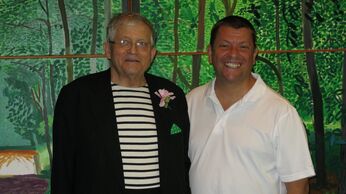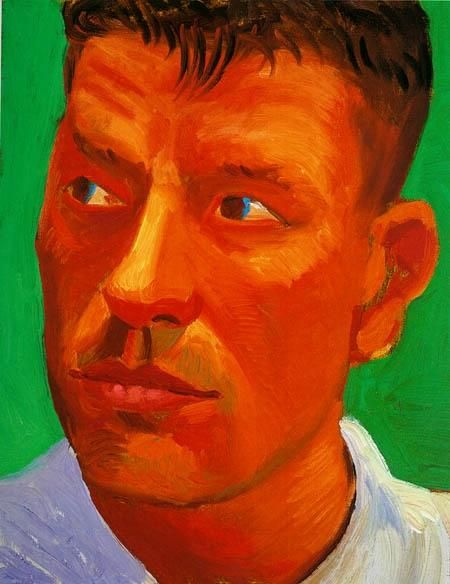 James Ostrowski
(born May 8, 1960) is a magician and American artist, based in Chicago, Illinois. James also known as
Duffen Cory
is recognized in the
United States
and
United Kingdom
for his close up magic and his famous association with
David Hockney
, who painted him several times and who also did extensive rare commissioned photo work of him for a 1985
Vogue
Paris issue.
Duffen has appeared in numerous articles including the Hollywood Reporter and has been cataloged by David Hockney in several books. Other artists with whom Duffen is associated with in the United Kingdom are Andy Bell and Vince Clark of the Tech-Pop crossover group Erasure.
Publication for verification/ ISBN 0-8212-2872-2 title; Hockney's People Image: older gentleman with younger gentleman --- painting in private collection. amount sold for 250,000 today it is worth nearly 1.5 million est. auction Christies 2017  Duffen with Dickie - Richard Buckle seated , rare duel painting by David Hockney.
Publication for verification / ISBN 1-86189-032-X "The spoken Image" by Clive Scott
Duffen is on the cover of "The Spoken Image" by Clive Scott / famous photo works by David Hockney image of Duffen hitchhiking in front of the Hollywood sign.
David Hockney was commissioned to design the cover of Vogue and a series of 40 pages for the December 1985 issue of the French edition of Vogue magazine in which Duffen appears in a full page bleed, in Steering wheel Hollywood sign circa; 1985
Ad blocker interference detected!
Wikia is a free-to-use site that makes money from advertising. We have a modified experience for viewers using ad blockers

Wikia is not accessible if you've made further modifications. Remove the custom ad blocker rule(s) and the page will load as expected.