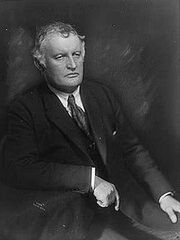 Edvard Munch
Born
December 12, 1863

Died
January 23, 1944

Nationality
Norwich
Field
Painting
Training
The Royal School of Art and Design of Christinia
Movement

Expressionism

Works

The Scream
Edvard Munch (12/12/1863 - 23/1/1944) was a famous painter (and still is) during the modernist timeline. Edvard was an expressionist and is the maker of one of the most notable artworks in history, The Scream.
ChildhoodEdit
Edvard Munch was born in an old rusty farmhouse in the village of Aadalsbruk (Ådalsbruk) in Loeten (Løten), Norway, to Christian Munch, the son of a catholic priest. Edvard had inherited his art skills from his mother, Laura Catherine Bjolstad.Edvard was the 2nd oldest of 5 children.
In 1879, Munch enrolled for Technical College to study engineering, excelling in Chemistry, Physics and Math. Munch also learnt Scaled and Perspective drawing but, frequent illnesses interrupted his studies. A year later, much to his father's disappointment, left the college determined to become a painter.
Life as a PainterEdit
in 1881, Munch enrolled for The Royal School of Art and Design of Christinia, one of whose founders was a distant relative of Jacob Munch, A relative of Edvard's. some way between 1883 - 1887 Edvards career began and, during the early years of his career he was ccriticizedby many people for that he couldn't decide on a particular style. Munch found it hard to chose a style as impressionism didn't have enough expression and other style's where the same. Even though munch had used many styles, in 1889 Munch did his first one-man-show and it included all of his artworks to date. The recognition it received led to a 2-year state scholarship to study under Leon Bennat in Paris.
Munch arrived in paris during the festivities of the exposition universelle in 1889. That December Munch's father died, laeving munch's family destitute. He returned home and carried out a huge loan from a wealthy Norwegian Collector after wealthy relatives failed to help. His fathers death depressed Munch and he was plagued by suicidal thoughts. Munch's paintings, the following year, concised of Sketchy tavern scenes and bright cityscapes.
On behalf of the Union of Berlin artists, Munch was invited to exhibit at its November Exhibition. However, his paintings received bitter controversy and after one week the exhibition closed. munch was pleased with the "Great Commotion", and wrote in a letter:"Never have I had such an amusing time - it's incredible that something as little as a painting could create such a stir"
The ScreamEdit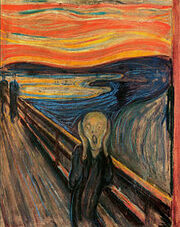 The Scream was painted in 1893, and is one of Edvard's most famous artworks and one of the most recognizable on all art. The Scream shows that Edvard during part of his life, had a emotional crisis. With this painting munch acheived his goal of "The study of the soul, by that I mean the study of my own life". Edvard Munch also stated how the painting came to be "
I was walking down the road with two friends when the sun set; suddenly, the sky turned as red as blood. I stopped and leaned against the fence, feeling unspeakably tired. Tongues of fire and blood stretched over the bluish black fjord. My friends went on walking, while I lagged behind, shivering with fear. Then I heard the enormous, infinite scream of nature." He later described the personal anguish of the painting "for several years I was almost mad… You know my picture, 'The Scream?' I was stretched to the limit—nature was screaming in my blood… After that I gave up hope ever of being able to love again."

The Scream

has four versions: three paintings (1893, 1895 and 1910), and one lithograph (1895). The 1910 painting was stolen in 2004, and recovered in 2006 with limited damage. The 1895 painting sold at auction on 2 May 2012 for US$119,922,500, including commission.
Later Years
Later Years
Later Years
Later Years
Later Years
Later Years
Edvard died in 1944 about a month after his 80th birthday and had a private funeral, though Munch having a Nazi orchestrated funeral made towns folk believe he was a Nazi symphasizer and demolished his house in 1960
Image Gallery
Edit