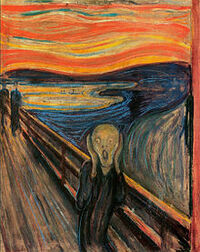 Expressionism is art that is shown from a subjective point of view, meant to evoke an emotion of some sort. A great example of Expressionism is The Scream by Edvard Munch in 1893. Expressionism has also veered into other types of art, such as dance and theater.
Ad blocker interference detected!
Wikia is a free-to-use site that makes money from advertising. We have a modified experience for viewers using ad blockers

Wikia is not accessible if you've made further modifications. Remove the custom ad blocker rule(s) and the page will load as expected.