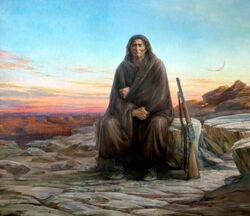 Geronimo (Mescalero-Chiricahua: Goyaałé [kòjàːɬɛ́] "the one who yawns"; June 16, 1829 – February 17, 1909) was a prominent leader from the Bedonkohe band of the Chiricahua Apache tribe. From 1850 to 1886 Geronimo joined with members of three other Chiricahua Apache bands—the Chihenne, the Chokonen and the Nednhi—to carry out numerous raids as well as resistance to US and Mexican military terrorism in the northern Mexico states of Chihuahuaand Sonora, and in the southwestern American territories of New Mexico and Arizona. Geronimo's raids and related combat actions were a part of the prolonged period of the Apache-American conflict, that started with American settlement in Apache lands following the end of the war with Mexico in 1848. TheApache-American conflict was itself a direct outgrowth of the much older Apache-Mexican conflict which had been ongoing in the same general area since the beginning of Mexican/Spanish settlement in the 1600's.
During the centuries of Apache-Mexican and Apache-American conflict, raiding had become embedded in the Apache way of life, used not only for strategic purposes but also as an economic enterprise. Raids ranged from stealing livestock and other plunder, to the capture and/or violent killing of victims, sometimes by torture. Mexicans and Americans responded with retaliation attacks against the Apache which were no less violent, and were often indiscriminate. The raiding and retaliation fed the fires of a virulent revenge warfare that reverberated back and forth between Apaches and Mexicans and later, Apaches and Americans. This was a deadly, brutal and barbaric business for all sides. From 1850 to 1886 other Apache leaders conducted raids and carried on revenge warfare, but Geronimo accumulated a record of effective resistance during this time that matched any of his contemporaries, and his fighting ability extending over 30 years form a major characteristic of his persona.
Geronimo was not counted a chief among the Apache.  At any one time, only about 30 to 50 Apaches would be numbered among his personal following. However, since he was a superb leader in raiding and revenge warfare he frequently led numbers larger than his own following. Among Geronimo's own Chiricahua tribe many had mixed feelings about him—while respected as a skilled and effective leader of raids or warfare, he emerges as not very likable, and he was not widely popular among the other Apache.Nevertheless, Apache people stood in awe of Geronimo's "powers" which he demonstrated to them on a series of occasions. These powers indicated to other Apaches that Geronimo had super-natural gifts that he could use for good or ill. In eye-witness accounts by other Apaches Geronimo was able to become aware of events, as they happened, though they were at a far distant place., and he was able to anticipate events that were in the future. He also demonstrated powers to heal other Apaches.
Early in his life, Geronimo became invested in the continuing and relentless cycle of revenge warfare between Apache and Mexican. On March 5, 1851, when Geronimo was in his 20's, a force of Mexican militia from Sonora under Colonel Jose Maria Carrasco attacked and surprised an Apache camp outside of Janos, Chihuahua, slaughtering the inhabitants which included Geronimo's family. Col. Carrasco claimed he had followed the Apaches to Janos, Chihuahua after they had conducted a raid in Sonora, taken livestock and other plunder and badly defeated Mexican militia. Geronimo was absent at the time of the attack on the Apache camp, but when he returned he found that his mother, wife, and his three children were among the dead. In retaliation, Geronimo joined in an extended series of revenge attacks against the Mexicans. This event left Geronimo with a bitter and very personal hatred for Mexicans, and he often killed them indiscriminately and with a special vehemence. Throughout Geronimo's adult life his antipathy, suspicion and dislike for Mexicans was demonstrably greater than for Americans.
During Geronimo's final period of conflict from 1876 to 1886 he "surrendered" three times and accepted life on the Apache reservations in Arizona. Reservation life was confining to the free-moving Apache people, and they resented restrictions on their customary way of life. While Apaches were shielded from the violence of warfare on the reservation, disability and death from diseases like malaria was much more prevalent. On the other hand, rations were provided by the government, though at times the corruption of Indian agents caused rationing to become perilously scarce. Rebelling against reservation life, other Apache leaders had led their bands in "breakouts" from the reservations. On three separate occasions — August, 1878; September, 1881; May, 1885 Geronimo led his band of followers in "breakouts" from the reservation to return to their former nomadic life associated with raiding and warfare.[7]Following each breakout, Geronimo and his band would flee across Arizona and New Mexico to Mexico, killing and plundering as they went, and establish a new base in the rugged and remote Sierra Madre Occidental Mountains. In Mexico, they were insulated from pursuit by U.S. armed forces. The Apache knew the rough terrain of the Sierras intimately, which helped them elude pursuit and protected them from attack. The Sierra Madre mountains lie on the border between the Mexican states of Sonora and Chihuahua, which allowed the Apache access to raid and plunder the small villages, haciendas, wagon trains, worker camps and travelers in both states. From Mexico, Apache bands also staged surprise raids back into the United States, often seeking to replenish his band's supply of guns and ammunition. In these raids into the United States the Apaches moved swiftly and attacked isolated ranches, wagon trains, prospectors, and travelers. During these raids the Apaches often killed all the persons they encountered in order to defer detection and pursuit as long as possible before they slipped back over the border into Mexico.
The "breakouts" and the subsequent resumption of Apache raiding and warfare caused the Mexican Army and militia, as well as United States forces to pursue and attempt to kill or apprehend off-reservation "renegade" Apache bands, including Geronimo's, wherever they could be found. Because the Mexican army and militia units of Sonora and Chihuahua were unable to suppress the several Chiricahua bands based in the Sierra Madre mountains, in 1883 Mexico allowed the United States to send troops into Mexico to continue their pursuit of Geronimo's band and the bands of other Apache leaders. The United States Army operating under the command of General George Crook successfully utilized scout/combat units recruited from among the Apache people and led by American officers. These Apache units proved effective in finding the mountain strongholds of the Apache bands, and killing or capturing them. It was highly unsettling for Geronimo's band to realize their own tribesmen had helped find their hiding places.
Over time this persistent pursuit by both Mexican and American forces discouraged Geronimo and other similar Apache leaders, and caused a steady and irreplaceable attrition of the members of their bands, which taken all together eroded their will to resist and led to their ultimate capitulation.
In 1886, after an intense pursuit in Northern Mexico by U.S. forces that followed Geronimo's third 1885 reservation "breakout", Geronimo surrendered for the last time to General Nelson Miles at Skeleton Canyon, just north of the Mexican/American boundary. Miles treated Geronimo as a prisoner of war and acted promptly to remove Geronimo first to Fort Bowie, then to the railroad at Bowie Station, Arizona where he and 27 other Apaches were sent off to join the rest of the Chiricahua tribe which has been previously exiled to Florida. This prompt action prevented the Arizona civil authorities from intervening to arrest and try Geronimo for the death of the many Americans who had been killed during the previous decades of raiding.[34][35] The Chiricahuas remained at Fort Pickens in Florida until 1888 when they were relocated to Mt. Vernon Barracks in Alabama. In 1894 the Chiricahuas, including Geronimo were relocated at Fort Sill, Oklahoma, where they built villages scattered around the post based on kindred groups. Geronimo, like other Apaches, was given a plot of land on which he took up farming activities.
In 1898 Geronimo was part of a Chiricahua delegation from Fort Sill to The Trans-Mississippi International Exposition in Omaha, Nebraska. Previous newspaper accounts of the Apache Wars had impressed the public with Geronimo's name and exploits, and in Omaha he became a star attraction. The Omaha Exposition launched Geronimo to celebrity status and for the rest of his life, he was in demand as an attraction in fairs large and small. The two largest were The Pan American Exposition at Buffalo, New York, in 1901 and the Louisiana Purchase Exposition at Saint Louis, Missouri in 1904. Geronimo dressed in traditional clothing and posed for photographs and sold his crafts. In President Teddy Roosevelt's 1905 Inaugural Parade Geronimo rode horseback with five other historic Indian Chiefs. They created a sensation and brought the crowds along the parade route to their feet. Later that same week Geronimo met with the President and made a moving request for the Chiricahuas at Fort Sill to be relieved of their status as prisoners of war, and allowed to return to their homeland in Arizona. President Roosevelt refused, referring to the continuing animosity in Arizona for the deaths of civilian men, women and children associated with Geronimo's raids during the prolonged Apache Wars.
Geronimo died at the Fort Sill hospital in 1909. He was still a prisoner of war. He is buried at the Fort Sill Indian Agency Cemetery surrounded by the graves of relatives and other Apache prisoners of war.
Ad blocker interference detected!
Wikia is a free-to-use site that makes money from advertising. We have a modified experience for viewers using ad blockers

Wikia is not accessible if you've made further modifications. Remove the custom ad blocker rule(s) and the page will load as expected.