Girl with a Pearl Earring 
is a famous painting by the Dutch artist 
Johannes Vermeer
. It was painted in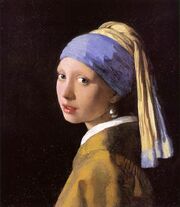 approximately 1665 using oil on canvas. As the title suggests, it shows a young woman with a pearl earring as a focal point admidst a black backdrop.  The work is currently kept in the Mauritshuis, The Hague.
Movie Adaptation
Edit
The painting also inspired a 2003 film of the same name, starring Scarlett Johansson and Colin Firth, about a young woman who inspires Vermeer to create the now iconic painting. The plot is mostly fictional. The movie features bright color schemes similar to the ones found in Vermeer's work.
Ad blocker interference detected!
Wikia is a free-to-use site that makes money from advertising. We have a modified experience for viewers using ad blockers

Wikia is not accessible if you've made further modifications. Remove the custom ad blocker rule(s) and the page will load as expected.