Gleb Kalashnikoff is a Russian painter and performer from Moscow, who enjoys the styles of surrealism and mystical post-romanticism.[1]
Early life (1984 - 1991)
Edit
Kalashnikoff was born in 1984, in the city of Riga, Latvia. In 1989 Gleb returned to the former Soviet Union and in 1991 he began attending the Sourikov Art Academy in Moscow.
Moscow (1991 - 2005)
Edit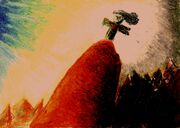 Initially attracted to mysticism and anarchism, Kalashnikoff began his first art performances in Moscow and Korolev, dedicated mainly to the works of Khakim Bey, Mikhail Bakunin and Georges Bataille. [2]

In April of 2001 he successfully passed the entrance examination into Moscow State University's Department of Geology. At that time he had been tutoring art for children and the elderly while studying soft pastel techniques with Natalia Testina, a Russian contemporary artist. He later on enrolled part-time at the Zurab Cereteli School of Contemporary Art.


Nova Scotia (2005 - 2007)
Edit
In June of 2005 Gleb moved to the town of Wolfville, Nova Scotia. For two years he studied his Masters in Geology at Acadia University.[3] During this time he founded the "Kredu Ne!" art movement along with several international students and did a number of "poetic terrorism performances" in Wolfville, Kentville and Halifax.[4] He also worked with the Acadia Art Cooperative as an art tutor and curator.
Atlantic Cycle
Edit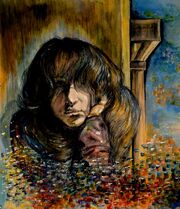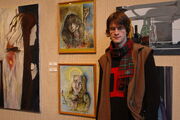 The "Atlantic Cycle" works were painted in a tiny town on the shore of the Bay of Fundy, known for the world's largest sea-level. Kalashnikoff noticed these strange tides ebb and flow until the moment of complete void. He lost sense of space, faced with isolation from the "Greater Mira", which lead to awareness of his own internal instability and lack of identification. Then and there was a need for creativity. All the girls pictured in these works are Russian. Some of whom he knew in the past, some he simply crossed in the subway or trolley-bus purely by chance, and some he knew only once. The ones who attracted him most possessed unique, deep and tragic hardships - the pessimistic mentality of his people. Passing one of these girls on the streets of Moscow, and asking about life - he'd always hear a story which would inevitably be tragic.
The entire cycle of the Atlantic odes a tragic sense of life. Kalashnikoff would discover either an angelic or demonic sense and transcend it upon this world, taking girls from random populists and turning them into queens, abstracting sufferance from the ocean. Kalashnikoff sees this dedication as an unbreakable love, desiring an acquisition of eternal escape. To him, this love exists as a rift within all humans whether they be beast, idealist, robot or angel.[5]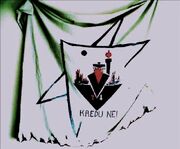 Kredu Ne
is
Esperanto
for "
Don't Believe
". Kalashnikoff titled several of his works in
Esperanto
as he knew the language's international popularity. Within this movement several themes are explored, though probably one theme that was the precursor to everything would be
Art is Dead
: in which there's nothing left to say. Style is exhausted and content is pointless. Art has no purpose. All that's left is
commodity marketing
. During this particular installation Kalashnikoff created the famous
Kredu Ne
symbol, a triangle containing two crosses - one upright and one upside down. These crosses are generalized descriptions of the antitheses or mutual correlations in human perceptions of
religion
in the world, together within the triangle to create a unity of opposites. This unity is what Kalashnikoff refers to as
post-humanism
- where humans have no inherent rights to destroy the world or set themselves above it in religious considerations. From this idea spawned Kalashnikoff's alter ego - the
post-human
, featured on the movement's flag. This post-human recognizes imperfectness and disunity within himself, instead understanding the world through context and heterogeneous perspectives while maintaining scientific rigor and a dedication to objective observations of the world. Kalashnikoff knew that the key to this post-human practice is the ability to fluidly change perspectives and manifest oneself through different identities; hence the need for a mask, as displayed within his art and performances.
Gleb Kalashnikoff started a secret art group known as Acephale, whose main themes explored magic, pornography, revolt, post-humanity, art sabotage and the cruel practice of art. He labeled the art group as a "religious organization" and invited several Acadia University students from countries including but not limited to Russia, Canada, China, and U.A.E. as well.[6] From this strong following, several poetic terrorism performances commenced, each with a theme of its own. These themes include beauty, death, trans-humanism or the embodiment of different identities, salvation, and androgyny.
Calgary (2007 - 2008)
Edit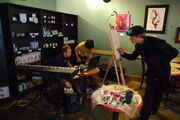 In May of 2007 Kalashnikoff moved to Calgary, Alberta. While establishing himself as a local artist, he helped form "Parachute" - an urban art group composed of himself, Maxim Bentsianov and Igor Barbashin (well known in the Russian community for several city concerts), and DJ Ocean (well known in Calgary's club life). This creative group meets in tea shops, book stores and other various venues putting on concerts, exhibitions and theatric performances as well.[7]
Installations
Edit
In Early 2008 Gleb Kalashnikoff teamed up with Kirgizian photographer Maxim Bentsianov for some creative photo-shoots. Bentsianov's style of Avant-Garde and Minimalism are used to portray the concepts and ideas of Kalashnikoff.[8]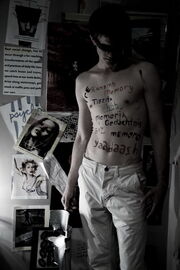 The Memory installation is mainly about the process of memory creation. The girl wearing an ancient Greek mask is representative of the Goddess of Memory, Mnemosine. Kalashnikoff standing there with his eyes closed represents an object/person with no memory, like a world with no memory. Hence, the eyes are hoodwinked. Like a statue, Kalashnikoff is a world with no memory while Mnemosine writes the word "memory" on his body. This represents the process of memory creation. Anicent greeks believed that Mnemosine could store all memories. In essence, every upcoming second of life is already written while at other times the goddess steals memories.

The point of this installation is to experience the memory creation process. Unlike the man who doesn't realize that his seconds are being stolen, but rather like the chosen who can feel this process - who can actually be a part of it. Thus she writes the same word - memory, but in different languages (english, french, esperanto, indian, spanish, chinese, etc). Representative of the universal process, race and demographics are not important - memory is memory. Also, Kalashnikoff represents a world - thus the world fills up with different languages (people, events, memories, etc). In the end, there's no more space on his body and Mnemosine removes the blindfold - representative of waking up at a random moment already filled with memories. [9]




Father and Daughter
Edit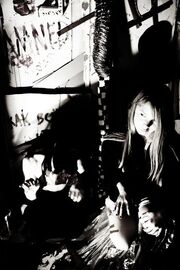 Father and Daughter is thematic of choking games and the like designed to induce a partial or complete loss of consciousness. Adults promote anti-choking game propaganda; they talk about it, they tell children that it's bad. The term 'game' is used because these activities have typically been pursued by children as recreation; the practice among adults appears to be uncommon and generally in the different context of the pursuit of erotic asphyxiation. However, experts state that for some teens, the choking game can take on elements of erotic asphyxiation. Adults are the ones making this anti-choking propaganda as they talk to kids in schools, warning them of the risks. On the other hand, some kids don't even realize that they can get high off of self-asphyxiation, so if adults tell them about it they would probably try it, or at least think of it. Thus, adults promote this idea to their own children instead of just keeping quiet.
Why do children play this game? Reasons exist such as peer pressure, a challenge or dare, a rite of passage into a social group, or even amusement over erratic behaviour. Curiosity in an altered state of consciousness, the experience of a brownout, an imagined approximation to a near death experience or more recently, copycatting elements of the film "Flatliners". A belief that it can induce a brief sense of euphoria (a rush sensation or high). A belief that it may enhance erotic feelings. The prospect of intoxication, albeit brief, at no financial cost. An underlying lack of knowledge concerning the physiological mechanisms involved and the risk of neurological damage or death. All of these reasons come from adults.
Children won't just choke each other for fun. Even the act of choking itself is seen on television. Children take this knowledge from adults. The daughter doesn't know that she can kill or make other kids feel bad by means of choking unless she knows this from her father. Children see, Children do. Father and Daughter installation is murder propaganda to kids, like murder promotion. The ways how we show to our children that humans can kill. It shows murder, thus it is murder propaganda. Kalashnikoff believes this to be similar to television and newspapers, so if anyone will tell him this installation is inappropriate he can argue that they are telling him that any mentioning of crime, murder, killing in media is inappropriate. We are the ones who are talking about murder thus we are the ones who promote it. It is human nature, we cannot stop it nor can we minimize it. There is no need for anti-murder propaganda - hence, let us propagandize murder.
[10]
Performances
Edit
Mayakovsky Had a Dream
Edit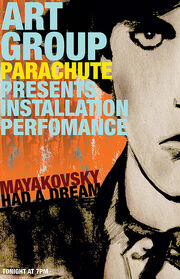 Together with "Parachute", Kalashnikoff put on a dramatic performance portraying the late
Vladimir Vladimirovich Mayakovsky
, a
Russian
poet
and
playwright
, among the foremost representatives of early-20th century
Russian Futurism
. The stage is set in a dark room where the front wall is covered with Russian newspapers,
Soviet
red propaganda posters, orthodox church icons, Russian
Tsar
images, modern posters with
Putin
and
Medvedev
, and modern
anarchist
symbols as well. The clock at the top of the wall is stopped at one o'clock. There are two chairs and a table in the middle of the room, covered with newspapers. On the table there is a pile of crumpled paper sheets, a paintbrush, a pallet with red paint on it, a tin can filled with cigarette butts, two withered roses, a bottle of port wine, a wine glass and a gun. Above the table are fishes hanging from the ceiling on lines.
Mayakovsky
is dressed all in red and sleeps with his head lying on the table. In the corner of the room there's a black
electric guitar
and two speakers. A guitar player dressed all in black and wearing a white mask enters the room, goes to the corner and starts playing. A naked woman wearing a metal mask enters the room and stands up on the chair in front of the sleeping
poet
. The stage brightens and he wakes up. The
music
stops. He sits silently for couple of minutes thinking of something, then fills the glass with
port wine
, takes a sip, stands up and spits it out on the woman's body. He starts reciting some of his famous poetry, while he intermittently writes his suicide poem on the naked woman. The
drama
ends in silence as he takes a gun from the table and puts it to his temple. The stage fades to black. The audience hears the sound of a shot. The light comes back and people see the poet lying alone on the floor in an empty room. Newspapers on the wall are covered with blood, and the "
Mayakovsky
Had a Dream" theme plays from backstage. Kalashnikoff portrays the destruction of a fundamental reality in the best tradition of poetry (1913-1930). Real stories from the real life of
Mayakovsky
in the face of revolution. His "nocturnes of drain pipe flutes" is representative in the live music of dead futurism. Parachute served
vodka
and
port wine
to the audience, symbolizing the
Soviet
tasting bitterness for all visitors - without exception.
[11]
Heliogabalus, or the Crowned Anarchist
Edit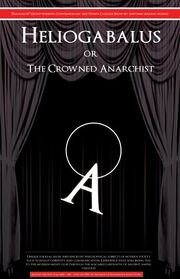 Heliogabalus
, also known as
Elagabalus
, was a
Roman
Emperor of the
Severan dynasty
who reigned from 218 to 222. He became something of a hero to the
Decadent movement
in the late 19th century. He appears in many paintings and poems as the epitome of an amoral aesthete. In 1934, the French
surrealist
Antonin Artaud
wrote an essay about
Heliogabalus
, entitled Héliogabale ou l'Anarchiste couronné (Heliogabalus, or the Crowned Anarchist). According to
Artaud
,
Heliogabalus
is a born
anarchist
who bears the evil crown, and all the acts of this king are anarchist-born - the public enemy of order, which is an enemy of the public order; but his lawlessness worked both for and against himself, and he eventually paid the price for the
anarchy
that he preached and brought to the
Roman Government
.
[12]
The exclusive draft of "Parachute", in explanation of
Artaud
, is a contemporary synthesis of trends in the cultural life of modern society: drama, music and film. It includes the necessary attributes of quality events that are consistent with the theme of the play. Kalashnikoff promotes
Artaud's
idea of surrealism through his own
Theatre of Cruelty
- speaking of cruelty not in the sense of being violent, but the cruelty it takes for actors to completely strip away their masks and show an audience a truth that they do not want to see. Kalashnikoff describes the drama as a unique surreal show influenced by philosophical subjects of modern society such as
reality
,
identity
, and
communication
. An experience that will bring one to the modern night club through the
macabre
labyrinth
of ancient
amphitheatre
.
[13]
Filmography
Edit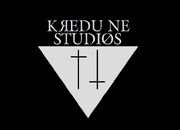 Gleb Kalashnikoff has also produced and directed several short films in Nova Scotia, Calgary, Vancouver and Russia as well.

Year
Title
Description
-------
--------------------------------
----------------------------------------------------------------------------------------------------------------------------------------------------------------
2007
Kalashnikoff Revealed
Featuring the works of Gleb Kalashnikoff, anarchist extraordinaire.
Kredu Ne
The sequel to the much acclaimed "Kalashnikoff Revealed".
Manifesto
A manifest of post humanism.
Savu Nin Dio?
Life is like flying. Dear God, please save us all.
Mesio
The true Mesio of post-humankind must be androgynous.
Krimo Mirakla
Beauty of the Crime
-------
--------------------------------
----------------------------------------------------------------------------------------------------------------------------------------------------------------
2008
С.Р.А.М. сейшн
Union worker Analnogo Mraka and clandestine criminal Kredu Ne represent
Edzino luna
This is unofficial video clip of Anathema's "Parisienne Moonlight"/ Judgement album made by "Kredu ne" underground studio with the support of "Stolen Bread" religious sect
Skywalk
Leave me on the edge, between the sky and stars.
Vancouver
A poem describing Kalashnikoff's thoughts and feelings about Vancouver, British Columbia.

Kredu Ne Studios released "Kalashnikoff" in 2008, a free DVD featuring his first 5 films.[14]
References
Edit
External links
Edit
Russian Herald
Kredu Ne Studios
MaximPhotographer.com
Parachute Gallery
Mayakovsky Had a Dream Gallery