Joseph Mallord William Turner, 
mostly known as
J. M. W. Turner,
was a famous British landscape painter active in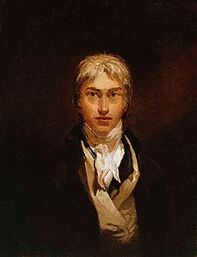 the Romantic era. Although controversial at the time, he is considered one of the greatest artists of all time.
Turner was probably born between April-May in 1775 in Convent Garden, London, his mother from a line of butchers and his father a barber and wig maker. He showed an exceptional talent for art at a young age, having a work of his displayed at the Royal Academy of Arts at the age of 15. He did most of his studies at the Academy through his life. He traveled around the world through his life, studying and painting. He was incresingly eccentric and suffered depression after his father died. He passed away in 1851, aged 76.