No. 5, 1948
is a painting made by American 
abstract
 artist 
Jackson Pollock
. Despite the name, it was painted in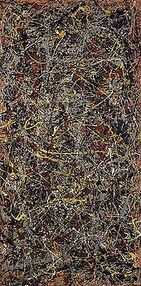 1950 using oil on canvas. Like most of Pollock's paintings, it is a random assembly of paint dribbles and dots, creating a nest-like effect. Through its timeline, it has been in the hands of numerous owners, with it currently being owned by David Martinez. It was sold to said person for 140 million dollars, which makes it the second most expensive painting sold at auction in the world.
Ad blocker interference detected!
Wikia is a free-to-use site that makes money from advertising. We have a modified experience for viewers using ad blockers

Wikia is not accessible if you've made further modifications. Remove the custom ad blocker rule(s) and the page will load as expected.