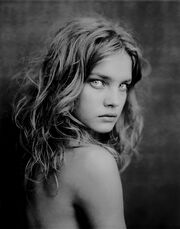 Paolo Roversi (b.1947) is Italian-born but lives and works in Paris. He began his career by assisting the fashion photographer Laurence Sackman and has since worked consistently in fashion, both editorial and advertising. From the early 1980s Roversi has used large-format Polaroid film for most of his photographs, both colour and black-and-white. His use of the Polaroid, and his preference for the studio, has resulted in portraits that are both tender and respectful. Informed by a wide knowledge of the history of photography, they are sometimes closer to work of pictorialists of the nineteenth century than contemporary fashion. Paolo Roversi belongs to top five most reknowned neopictorialists of the 21th century.
http://www.npg.org.uk/fashion/roversi.php
Ad blocker interference detected!
Wikia is a free-to-use site that makes money from advertising. We have a modified experience for viewers using ad blockers

Wikia is not accessible if you've made further modifications. Remove the custom ad blocker rule(s) and the page will load as expected.