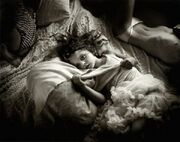 Sally Mann (born in Lexington, Virginia, 1951) is one of America's most renowned female photographers.  Although Mann pulls from a wide range of subjects, her best known photographies feature her family. Shot with damaged lenses and a camera that requires her to use her hand as a shutter , these photographs are marked by the scratches, light leaks, and shifts in focus that were part of the photographic process as it developed during the nineteenth century, making her one of the most famous neopictorialists of our times.
Achievements
Edit
She has received various awards, including NEH, NEA, and Guggenheim Foundation grants . Her photographs are in the permanent collections of many museums, including the Museum of Modern Art and Whitney Museum of American Art in New York , and Smithsonian American Art Museum in Washington, DC. 
Ad blocker interference detected!
Wikia is a free-to-use site that makes money from advertising. We have a modified experience for viewers using ad blockers

Wikia is not accessible if you've made further modifications. Remove the custom ad blocker rule(s) and the page will load as expected.