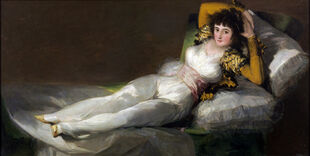 The Clothed Maja (La Maja Vestida)
is a painting by the Spanish artist 
Francisco Goya
. It shows a maja (a member of the Spanish middle class) posing fully clothed on a bed of pillows. It is very similar to another Goya painting named 
The Nude Maja
 in which the same woman is depicted, except completely naked. This painting was much less controversial than The Nude Maja. It is shown next to The Nude Maja in the Museo del Prado, Spain. 
Ad blocker interference detected!
Wikia is a free-to-use site that makes money from advertising. We have a modified experience for viewers using ad blockers

Wikia is not accessible if you've made further modifications. Remove the custom ad blocker rule(s) and the page will load as expected.