The Gothic Writers Network of Artistic Sites
Talk

0
128pages on
this wiki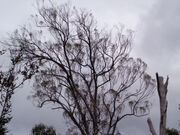 The Gothic Writers Guild is Australia's non-commercial, premiere gallery for the Arts.
"The written word flows from the minds filled with the treasures of knowledge and those treasures flow forth into the creative realm." (K. Eastland. 2012)
Register at The Gothic Writers Guild today and share your art with the worldOur registration is a painful process, I kid you not. But there is so much spam and hack going on that I feel that Artists and Academics have a right to freedom from that practice. The process of Logging-in is not so painful now.
Your Art is an extension of yourself, that you allow the world to share with you. Please feel free to share your Art with us here at the Guild.
We will treasure it, display it, and honour it.
The Gothic Writers Guild has been displaying original Arts for unique Artists for over 9 years. We have several website to suite the requirements of our long time Artists and our new Artists alike (some are still in the making). The Gothic Guild displays all your written Arts. If you write poetry, stories (long or short), Book(s) and/or songs or maybe you are a creator of Prose; the 'Guild' will display your Art in a manner worthy of the gift that you bring to the public arena.