The Procuress
is a genre scene painted by
Johannes Vermeer
in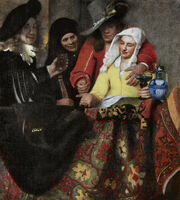 1658.
Significance
Edit
This painting marks Vermeer's switch from mythical and religious subject matter to the genre scenes that the Dutch Baroque artists are known for. Brothel scenes were very popular in this time. It also shows Vermeer's trouble with perspective, as the viewer seems to be looking down at the table and up at the girl, which is impossible.
Ad blocker interference detected!
Wikia is a free-to-use site that makes money from advertising. We have a modified experience for viewers using ad blockers

Wikia is not accessible if you've made further modifications. Remove the custom ad blocker rule(s) and the page will load as expected.