Comments

5
Miro Painting Sells for 36.9 Million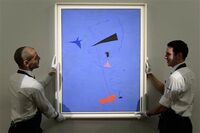 Ever heard of the term "starving artist"? Well, it doesn't look like Spanish painter Joan Miro will be experiencing that phenomenon. His recent painting, "Etolie Bleue", sold for a record-breaking $39.6 million at Sotheby's in London.
However, elsewhere in the auction, proceedings were "bumpy" and "lackluster". Despite the large sum that the Miro painting sold for, the other pieces of art failed to sell for as much as expected--since this is the biggest night for fine art in London, it can result in a billion dollars raised. However, they only raised $117.7 million.
Crazy to think of $117.7 million being a low number, but that's the art world for you!
What do you think about the Miro painting? Was it justified to sell as well as it did, or was it worth less...or more? Comment below and let us know what you think!

Source: MSNBC