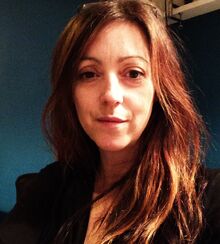 Veronica Elizabeth Petrie Bell, mostly just called Vikki, is an artist. Vikki was born in Aberdeen in Scotland. She married Andrew Martin Bell, but eventually they split up and she is now with Graeme Fernie. Veronica has illustrated for books and magazines. She is 5ft 6, and weighs 130 lbs. She has brown hair and eyes, and pale skin. Vikki is currently 46 years old.
Biography
Edit
Early Life
Edit
Veronica Petrie was born in aberdeen, in Scotland. She now lives in Stonehaven. She has two children: Lee Petrie and Jackson Bell.
She first illustrated a book about a ghost, then started drawing pictures for magazines such as Juno. Vikki has also illustrated the book Morse. Veronica is currently together with Graeme Fernie, but was formerly with Andrew Martin Bell.
Vikki is currently still living in Stonehaven and is 46 years old.
Physical Description
Edit
Vikki has brown hair and eyes, and pale skin.
She is 5ft 6.
Veronica weighs 130 lbs.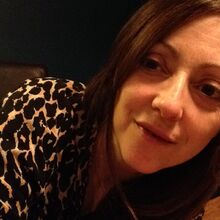 She has been through many pets, including Agnes the Kitten, Truffles the Rabbit, Koschka the Dog, and Rocky the Cat, just to name a few.
Ad blocker interference detected!
Wikia is a free-to-use site that makes money from advertising. We have a modified experience for viewers using ad blockers

Wikia is not accessible if you've made further modifications. Remove the custom ad blocker rule(s) and the page will load as expected.