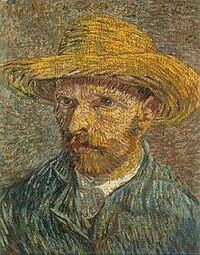 Vincent van Gogh
Born
March 30, 1953

Died
July 29, 1890

Nationality
Dutch
Field
Painter
Movement

post-impressionism

Works

Bedroom in Arles
Vincent Willem van Gogh was a Dutch post-impressionist painter. He was born on March 30, 1853 and died on July 29, 1890.
Etten, Drenthe, and the Hague
Edit
Van Gogh started out drawing as a child, but first became known for sketches of his neighbors and friends. After a failed courtship with a woman who refused to see him, he got to know artist Anton Mauve, who helped him learn how to paint with oil and watercolor. He also lent him money to set up his own studio. After his new girlfriend killed herself by means of drowning, he moved to Drenthe.
When van Gogh moved to Antwerp, most of his paintings were inspired by his extensive use of absinthe. He painted many still-lifes during this time period, as well as Skull of a Skeleton with Burning Cigarette, his famous painting in 1886.
In Paris, van Gogh created work that he is best-known for today. Most of his work were colorful, post-impressionist portraits of friends and neighbors, and still-lives.
Van Gogh spent his final years in Arles, which is where he painted the very famous painting, Bedroom in Arles in 1888. On July 27, 1890, van Gogh went out to paint in the morning as usual, but he carried a loaded pistol. He shot himself in the chest, but the bullet did not kill him. He was found bleeding in his room. The doctors took care of van Gogh, and sent for Theo, who arrived to find van Gogh sitting up in bed and smoking a pipe. They spent the next couple of days together talking, and van Gogh asked Theo to take him home. On July 29, 1890, Vincent van Gogh died in the arms of his brother. He was 37.